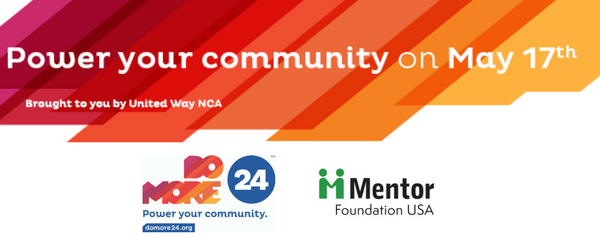 Do More 24 is an annual online fundraiser, powered by United Way of the National Capital Area, which brings together more than 600 DMV-based organizations for 24 hours of giving, awareness-building, and celebration.
Mentor Foundation USA is excited about participating in the DoMore24 movement for the first time, and we need your help!
Here is how you can get ready to give:
1. Donate. Noon to Noon, May 17-18, go to DoMore24.org/MentorUSA and donate.
2. Help up Fundraise. Create a Peer-to-Peer Fundraiser to help us fundraise! You will receive your own Fundraiser page (own URL), which will me linked to our Donation Page. Encourage friends and family to reach your fundraising goal! How to get started
3. Spread the word. Not only do we need your donation, we need your help to spread the word. Encourage your friends and family to join you in creating real impact starting May 17.
Bookmark our donate link today: DoMore24.org/MentorUSA